Modern jewelers have access to an amazing variety of precious metals in different colors. While metals such as palladium and platinum are slowly gaining popularity, gold remains the ultimate choice for many.
While a majority of people will buy white gold wedding rings for her, there are also other options available. Knowing the differences between rose gold, yellow gold, and white gold is a good way to narrow down your options when choosing a precious metal for your wedding rings.
Yellow Gold
While most people associate yellow gold with 100% purity, yellow gold used to make rings is often an alloy of copper or zinc. Similar to any other gold color, high karats equal high gold content, and the less durable the ring is. That said, 14K or 18K gold is used for wedding rings to ensure that it has a nice golden hue and that it stands well to daily wear.
While yellow gold looks nice on anyone, it looks excellent on dark or olive skin tones. It is best used for both modern and vintage-inspired styles and it is a perfect choice for anyone considering having the ring resized later.
White Gold
This type is made of gold and white metals such as manganese, nickel, or palladium. Nickel provides the strength properties, which make the ring durable. The gold content is measured in karats and the higher the content, the weaker the ring. White gold is less susceptible to scratches and dents; therefore, it is stronger and more durable than yellow gold.
Just like any other precious metal, white gold must be well maintained. In addition to the usual cleaning and polishing, have your ring dipped at least once in a couple of years to maintain its color and luster. The sophisticated gleam of white gold makes it easy to pair up with almost any skin tone. However, it goes best with fair or rosy skin tones.
Rose Gold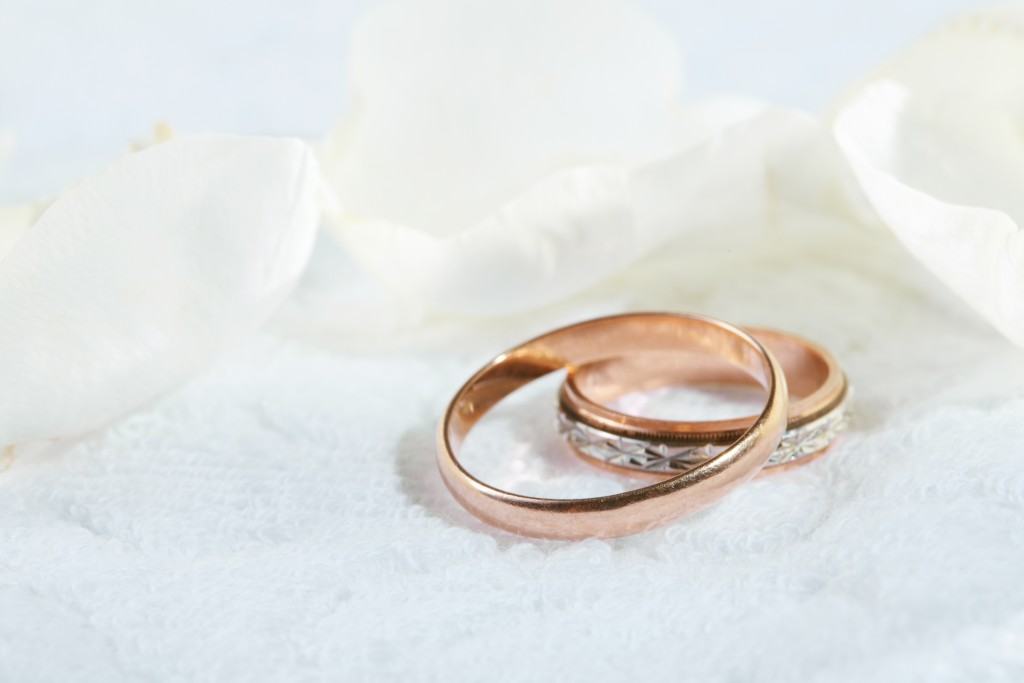 Also referred to as pink gold, red gold, or Russian gold, rose gold is an alloy of pure gold and copper. Unlike yellow and white gold, rose gold is not a very common choice since most people do not know much about it. It is, however, the strongest gold option, as its alloys do not wear out easily.
However, copper can be allergic to some people. You might want to have the person tested for any reactions. It is best suited for vintage and classic style weddings, as its colors are easily absorbed into the theme.
Additionally, rose gold is ideal for people with warm or cool skin tones. The rose gold color is conspicuous and easily blends with the pale skin. It is also suitable for people whose skin tones change with the seasons. If you are looking for a unique gold ring away from the usual yellow type, rose gold should be your ultimate choice.
With the above insights, you now have the basics to consider before choosing a ring for your loved one. You may also consider other factors before settling on the type of gold. These include the recipient's lifestyle, personal preference, types of stones available, and the price.