The United Kingdom is a renowned tourist destination full of history, culture, and natural beauty. Many people dream of visiting the UK, but the cost of travel can be a bit prohibitive. Aside from the cost of airfare, visitors to the UK can expect to pay a bit more for food, drink, and accommodation than they would in other parts of Europe.
There are ways to visit the UK on a budget, however. Here are four tips to help you save money when traveling in the United Kingdom:
Find an Affordable Place To Stay
Where you will be spending the night during your stay in the UK can have a big impact on your overall travel costs. Accommodation prices can be quite high, especially in London. If you are planning to visit London, consider staying in a less expensive area outside of the city center or look for affordable accommodation options such as hostels or campsites.
You will find it easier to find affordable accommodation if you stay longer in one place and move around less. You only need to do an online search before your arrival to ensure that you find the most affordable place to stay during your trip. Some already include the bills and have many convenient amenities like on-site laundry, gyms, and Wi-Fi included in the price.
If you are traveling with a group and don't have plans to stay for long, find accommodation that offers no fixed contract. This way, you are under no obligation to stay for a set period and can come and go as you please without having to worry about breaking any rules. Find a place to stay that has many great reviews, has many transport links close by, and is in a safe area.
Look For Deals on Food and Drink
Food and drink can be expensive, especially dining out every day. To save money on food, consider cooking some meals yourself. This way, you get to control how much you spend on ingredients, and you can use the kitchen facilities that are usually included in the price of your accommodation.
If you have roommates, consider pitching in for groceries together and taking turns cooking. You can also take advantage of the many discount supermarkets dotted around the UK, such as Lidl and Aldi. These stores offer a great selection of affordable food and drink options.
When you do eat out, try to avoid tourist traps and overpriced restaurants. Instead, ask the locals for recommendations on where to find the best food at a reasonable price. Pubs are a great option for reasonably priced meals, and you can often find specials and discounts on food and drink if you visit during happy hour.
Use Public Transportation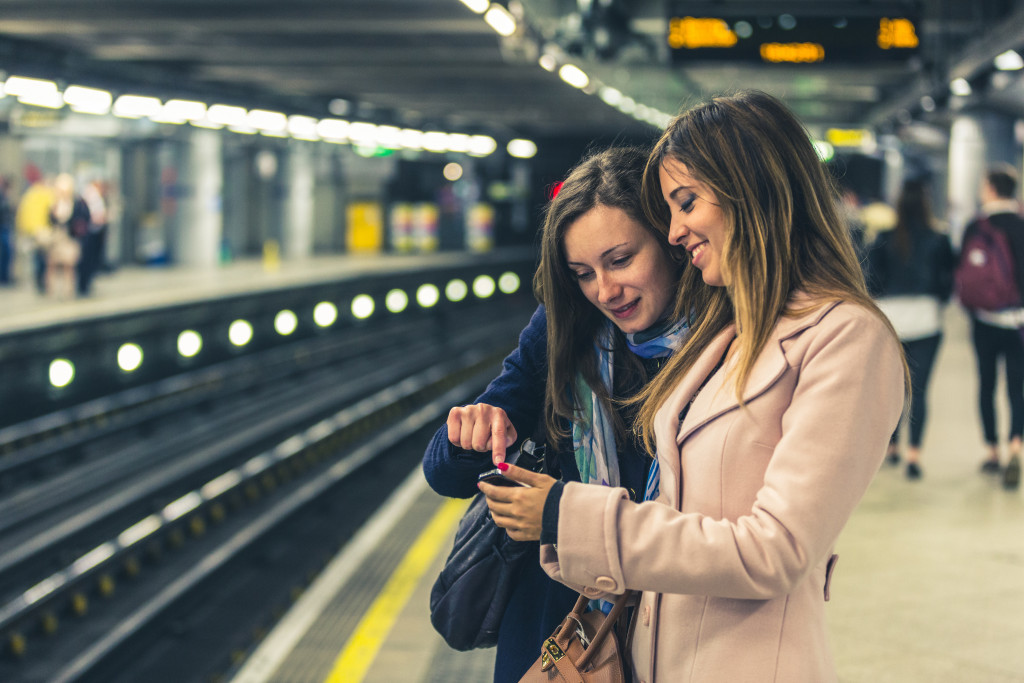 Public transportation is an efficient and affordable way to get around in the UK. In London, for example, you can use an Oyster card to ride the subway (the Tube), buses, and trams. You can also purchase a rail pass to travel by train to other parts of the UK.
To save money on transportation, plan your trips in advance and purchase a rail pass covering the areas you will visit. You can also look for discount tickets and passes online or at tourist information centers. If you are traveling with a group, consider getting a group travel card, which can offer significant savings.
If you are planning to rent a car, try to avoid driving in congested areas. This will help you save money on fuel. You can also consider walking instead to take in the sights and sounds of your surroundings without having to worry about finding a place to park.
Use Cash Instead of Credit Cards
Paying in cash offers many benefits. For one, it is easier to stick to a budget when using cash because you can physically see how much money you are spending and how much cash you have left. It is also easier to haggle when using cash, saving you money on souvenirs and other items.
While most businesses accept credit cards, you will often get a better exchange rate if you use cash. To avoid fees, withdraw some money from an ATM before you start your travels. This way, you will have local currency on hand and can avoid paying foreign transaction fees.
If you plan to withdraw cash after your arrival, alert your bank in advance. Most banks flag withdrawals from foreign countries and may freeze your account if suspicious activity occurs. Call them ahead of time and let them know you will be traveling so they can make a note on your account.
Keep the following tips in mind when using cash:
Withdraw cash from an ATM in the local currency, so you don't get hit with high conversion fees
Be aware of pickpockets
Keep your cash in a safe place
Always have some cash on hand in case of an emergency.
There is no need to spend more than you need when traveling in any country. The tips above will help you save money while still enjoying your time in the UK. Do some research, plan ahead, and be mindful of your spending, and you'll be able to travel on a budget.