In real estate, a property's curb appeal matters. While the floor plan, interior design, and yard all make an impact, a house's exterior facade is always prioritized. After all, it is the first thing that a guest sees when they pull up the driveway. Passersby create a first impression of the entire house, and the people who live in it, based on the curb appeal alone.
Many real estate experts agree that, in order to sell a house, it must have a curb appeal. Buyers make a decision of whether they like a property or not within 30 seconds after their arrival. By then, they only have seen the walkway, the front door, the porch, the siding, etc.
One study found that good curb appeal raised a house's value by up to 7%. It is a huge gain if you are trying to sell the property quickly and at a higher price.
However, even if you do not have plans to move out any time soon, there are some things to gain from improving your house's curb appeal. Here are the popular features for home exteriors.
A Neat Driveway
The driveway is the part of the exterior that is one of the most commonly used. Thus, it reflects the amount of attention and care that the homeowner gives the property. If it looks dilapidated because of normal wear and tear, it will have a negative impact on the house's curb appeal.
Homeowners who want to improve their home's curb appeal should hire professional paving installers. There are so many options to choose from depending on the function, durability, and overall look of the driveway that you hope to achieve. There are pavers who provide regular maintenance, too, to keep the driveway looking pristine for years to come.
Window Size Matters
More people favor large windows, and it is one of the features that home buyers want the most from a real estate property. It topped a survey that asked over 5,000 American adults which parts of a house that play a huge part in their decision to make the purchase. Over 19% answered windows, beating other popular choices such as porches and patios, roof shape, and siding.
This does not come as a surprise. Having large windows benefits health because it allows natural light into the space. During warm winters, it can contribute to raising the interior temperature, too.
Moreover, outdoors, windows help break a huge block of siding. It makes the exterior of the house look a lot less blank, giving it more character and charm.
Using energy-efficient windows, which prevents excessive heating and cooling during summer and winter months, would be a bigger draw. It can significantly lower utility bills which leads to sizable money savings in the long run.
Paint it with Natural Tones
The easiest, but most effective, home improvement project you can do is to paint your walls. A fresh coat of paint can make a property look less worn down from time and environmental elements such as the sun, rain, snow, wind, etc.
But, which color should you go for? The safest color is, of course, white or cream. However, you can also go with colors that are found in nature such as (muted) yellows, blues, green, brown, and taupe. Choosing these colors makes the house stand out in the neighborhood but without scaring guests or would-be buyers.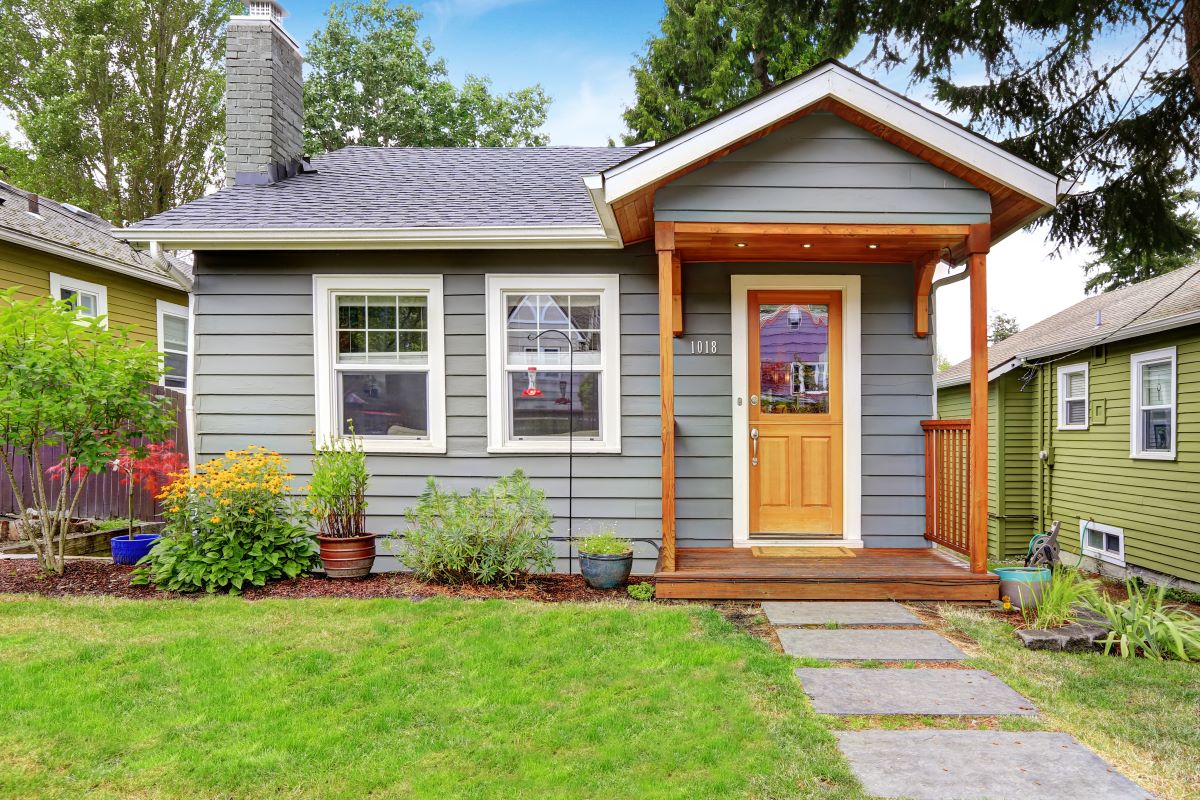 Pitch-Perfect Porch
An outdoor living space where residents can hang out, feel the warm breeze on their skin, bond with one another, stare at nature, and maybe spy on the neighbors is a must-have among homeowners. It expands the house because it provides another area that can be used for numerous activities.
A cozy porch can be the perfect place to welcome guests, for example, or just read quietly in a warm afternoon to enjoy the nice weather. Its existence alone encourages residents to be more social or to just spend time outdoors without leaving the house.
A porch is a coveted feature among homeowners or those who want to buy a real estate property.
Light It Up
Appropriate outdoor lighting illuminates the property in the dark of the night, making its features visible even after dusk. One report says that it is the second most-wanted feature among home buyers because it also adds safety to the property. It removes shadows where people with ill intent can hide.
However, too much of anything is bad. You do not want to blind your neighbors or any passersby. Keep the surroundings bright with spotlights, pendant lights, and walkway lights. But, try not to overdo it.
People pay attention to the exterior of the house. Homeowners, therefore, should consider the so-called curb appeal of the property, too, whether they are selling, or they hope to remain in the property for years to come.