It's human nature to seek new heights, take part in innovation, experiment, and explore. But with the pandemic, that's been almost impossible. Due to travel restrictions and health protocols, our worlds started to feel small as work, school, and rest took place at home. For a time, the only people we saw and interacted with were people at home.
Many opportunities were missed too. Proms, graduations, family gatherings, and other important events were something many of us have missed out on. However, these days, the dust has begun to settle.  Shops are opening, businesses are resuming, and learning institutions have started their face-to-face classes.
It feels like it's time to explore again, safely, and with fewer restrictions this time. The current situation sounds like an opportunity to finally get out there and try new things after a long time spent mostly indoors. See new places and faces, meet different people, learn new things, etc.
If you're going off to college soon, consider taking your undergraduate degree abroad. Multiple government programs or private institutions can assist with the enrollment process, the gathering of requirements, finding affordable accommodation for students, and more. Studying abroad opens many doors like no other. To add, it's a great way to make the most of the time spent indoors. It's time to take opportunities.
Get Perspective
Exposing yourself to new ideas and cultures encourages growth and enriches the mind. It helps broaden horizons and gain perspective. It may even change your worldview. Everyone needs this at least once in their life, especially after a global event like the pandemic. Many people have struggled mentally and physically during the pandemic, and others have lost hope for better days.
Exploring the world and exposing yourself to new opportunities could be what you need.  Sometimes, we all need a little nudge to realize that life isn't so bad and that we're not alone after all. A change of scene could be the restart you need.
Meet New People
Speaking of exposing yourself, meeting new people from different backgrounds and walks of life is essential for growth. College is more than getting a degree. It's about self-discovery, self-growth, and independence, among other things. College is an important time for any young adult's life. This is a time when people question their current beliefs and form their own opinions of the world. Meeting different people can help with that.  It can inspire and make you reflect on your own life and choices as well.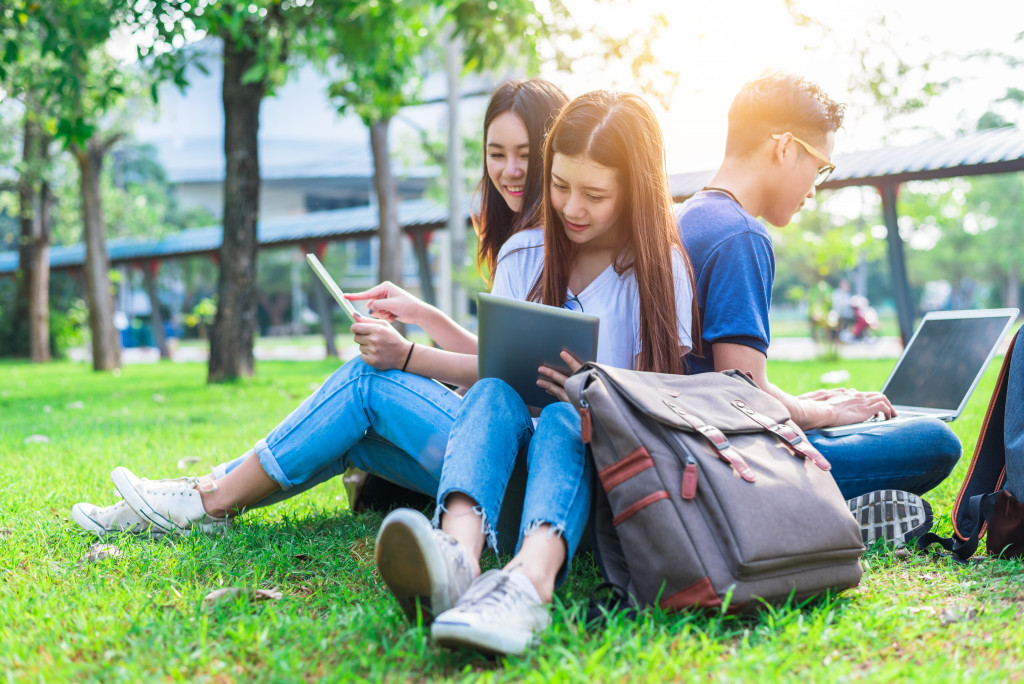 Build a Network
On a more practical note, studying abroad offers the rare opportunity of forming relationships with people from different parts of the world. These connections can even open doors to career opportunities. Either you plan on planting roots other than home or not, it's good to have a network.
Help Revive the Tourism Sector
It will be a waste not to make the most of your stay if you don't do any traveling now, would it? Breaks and holidays are the perfect times to explore the area or visit neighboring towns or even countries. The tourism sector has taken a blow from the travel restrictions due to the pandemic. Taking a trip with some newfound friends will not only help jump-start tourism but help the economy as well.
It Looks Good on Your Resume 
There's no doubt that completing your undergraduate degree outside your home country gives you an edge when applying for a job after graduation. Big companies seek diverse skills, competencies, and experience in talent, and they see this in international graduates. Past international students reported that studying abroad improved their managerial and cross-cultural skills, flexibility, self-awareness, and developed independence.
Build a Career Abroad
Maybe you came for the education but stayed for the career opportunities. The adjustment won't be as daunting since you've practically lived here for four years. Being familiar with the language, traditions, and more, you can jive well with workmates. But if you're planning to move somewhere else, your degree can pose early career benefits in a whole new place.
Coming from a different country and then completing your undergraduate education abroad implies that you have the cross-cultural competencies and flexibility to thrive in a new environment. It's important to do your research before deciding where you decide to move. Your chosen field is one of the biggest factors in deciding where to move next.
Pandemic or not, studying abroad is always a great opportunity. Growing in a different environment while developing new skills is something many look forward to. If the resources and the opportunity is within your reach, give it a shot. Completing your education in a whole new place opens many doors as a student and as a professional.