Caring for a terminally-ill senior can be a difficult and emotionally draining experience. It's important to remember that the care of your elderly loved one is not only about providing medical treatment but also about making sure their emotional needs are met.
It's essential to ensure you have all the information you need to provide the best possible care, including understanding what treatments may be available, what resources are available in your area, and how to support family members through this challenging process. Here are some key things to consider when caring for terminally-ill seniors.
Speak with professionals who specialize in hospice or palliative care
Taking the time to speak with professionals specializing in hospice or palliative care for seniors is essential to caring for a terminally ill loved one. Their expertise and experience in this area can be invaluable and make the process easier for everyone involved.
When consulting with these professionals, always begin by explaining your situation and the specific needs and concerns of your senior loved one. From there, they can guide what treatments might be most beneficial and how to ensure a high quality of life during this challenging period.
People who receive 'end-of-life' care often feel a greater sense of comfort when their caregivers know the various options available to them. Through thoughtful consideration and discussion with those who specialize in this area, you and your senior family member will better understand how best to proceed.
Understand their medical treatments and prognosis
Caring for a terminally-ill senior can be emotionally and physically exhausting. It is essential to understand the medical treatments and prognosis that they may receive to provide adequate care.
Taking the time to discuss treatments with their healthcare professionals and research online will help caregivers make well-informed decisions. Knowing these details also helps everyone involved plan for end-of-life expenses and issues such as making funeral arrangements or addressing legal documents.
Understanding terminally-ill seniors' medical treatments and prognosis provide closure for family members, allowing them to focus on their loved one's last days rather than worry about procedures and paperwork.
Find out what resources are available in your area
Caring for seniors nearing the end of their lives can be an emotionally challenging experience, made even more difficult if one is unsure of what resources are available in the area. Fortunately, several support services are specific to elderly individuals directly or indirectly affected by a terminal illness, making this process easier.
It is essential to discover what options exist as soon as possible to ensure the senior's medical and personal needs are met during this difficult time. Taking into account all the available resources will help create an atmosphere of peace and comfort for not only the seniors but also their families and friends.
Seeking out specialized organizations, support groups and counseling programs can provide immense assistance during such trying times, making it easier to approach life's most difficult moments with grace and understanding.
Make sure all necessary paperwork is taken care of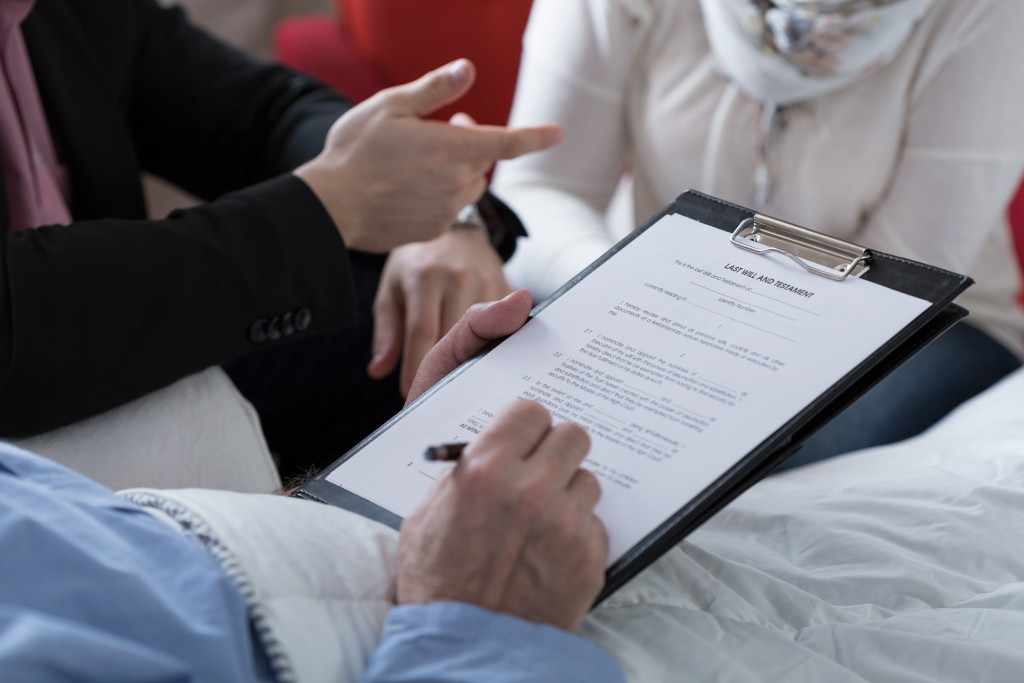 When caring for terminally ill seniors, taking care of all necessary paperwork is critical not only for their beneficiaries but also for the caregivers themselves. Ensuring that every legal and administrative aspect of the caregiving process is taken care of will help provide peace of mind to both parties.
This can be done by having an end-of-life plan in place, determining a power of attorney to handle finances and other decisions, confirming any medical directives, and updating wills or other estate plans. By taking these steps, families can ensure that the senior's wishes are met and respected while helping to protect the caregiver from potential liability.
Allowing an outside party to take on the responsibility for managing any potentially contentious issues will also help keep conflict or grief from affecting the relationship between the senior and their family or caregiver during what should be a period of respect, reflection, and support.
Respect their wishes
Respecting the wishes of terminally-ill seniors is an important obligation for all family members, caregivers and healthcare staff. Taking time to learn about and understand the senior's preferences and values can play a part in creating a positive environment amidst their difficult care journey.
It is important to respect the decisions they make regarding their own care, even if it is different from what you think should be best. As well as being able to provide comfort, this step shows them that you honestly care about their choices. It impacts not only the individual senior but also provides an example of caring for other seniors who may be going through similar struggles.
Respectful care of terminally-ill seniors also benefits those surrounding them by allowing for honest conversations about end-of-life wishes so that everyone involved can assist in providing quality care both during life and at its end.
There you have it: the key things to consider when caring for terminally-ill seniors. You may be overwhelmed by the process, but having the knowledge of how to best care for your senior loved one can make the experience much more manageable.