Dogs and humans have always been great companions since time immemorial. Dogs have assisted humans in hunting and herding. They have also provided protection for the whole family for thousands of years now. Scholars theorized that dogs come from wolves. But since then, dogs have evolved into loveable, utilitarian, and loyal creatures worthy of love and attention.
The feeling is mutual. Dogs need us, and we need them, too. As we take care of dogs and provide them with their needs, in turn, they also make us feel loved and happy.
Pets their owners cope with mental illness.
Research conducted in 2016 claimed that pet dogs and cats help patients cope with their severe mental illness. Having pets is a great way to manage depression, schizophrenia, bipolar disorder, or post-traumatic stress disorder. Their pets help them rebuild themselves, their sense of identity, and self-worth. Being with these loyal animals also distracts them from entertaining suicidal thoughts or obsessive thinking.
Keeping pets can encourage us to keep healthy habits.
You don't have to be mentally ill to feel the positive effects of having a pet. In our busy lives, we prioritize working on our finances or building relationships with families that we don't have time for useful physical exercises. This sedentary lifestyle can change if you keep a pet dog at home. In providing our pet's needs, we eventually lead an active lifestyle, spending time outdoors and enjoying nature. As we take our pets to a groomer, we are also reminded to take care of our own physical and grooming needs in maintaining a healthy disposition.
Pets make us more receptive to relationships and new friendships.
When introduced early in life, pets help kids to be more loving, kind, and open to building relationships with people around them. A study said that pet owners easily transfer the love and affection for their pet to family and friends, making them more social and friendly.
It is also easy to find a common topic to talk about with other people if you keep a pet. This is especially helpful among shy teens and adults. With a common topic, these individuals found it easier to reach out and avoid social isolation. Social connections enhance a person's well-being and help build better self-esteem, lowers anxiety, and depression provides more optimism and helps develop empathy and trust towards others.
How does this happen? How does keeping a pet make us happy, secure, and calm?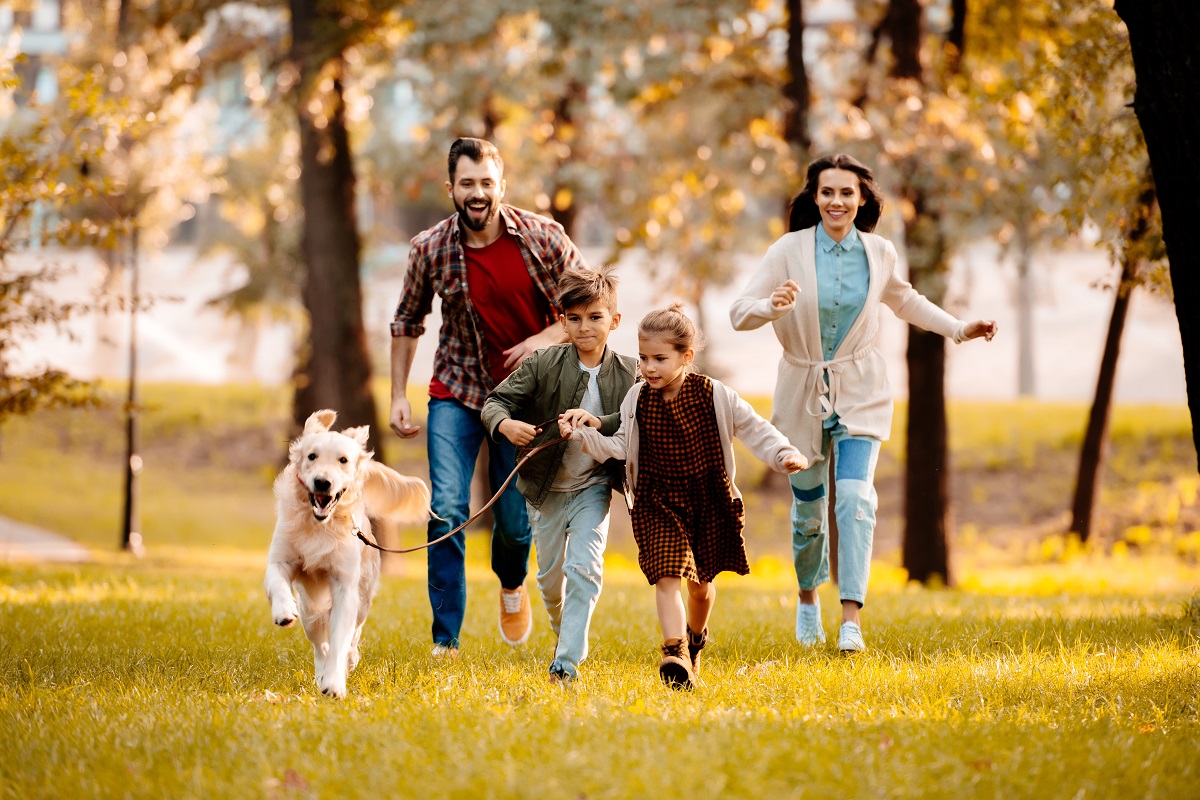 Humans have the innate need for physical touch, love, and affection. When you keep a dog and petting it, the act is a great stimulus that boosts your mood and eases depression. Previous studies pointed out that we release hormones to our system the moment we pet, hug, or cuddle a dog. Serotonin and dopamine are hormones that make us calm and reduce tension. They are the same hormones released on the mom and her newborn's first eye contact. These are also the same hormones that might be present when we are elated or in love.
With the many benefits and gifts that dogs give to us, it is also our duty to properly care for them. There are several ways on how to raise a happy, healthy pup.
Let them learn good manners so that they can blend well with other dogs and people.
Your dog needs to learn the language of the world. With proper, interactive training, your dogs will acquire a better understanding of the world and how to blend in with it. Training should start early. Let your dog undergo puppy training for it to know proper and improper behavior. The sessions will also train your pet to communicate its needs to its human trainer. Dog training will also help dogs learn compassion, clarity, and consistency.
Be consistent with housetraining and walking schedules.
Ideally, puppies spend time outdoors once every two hours, including those times after drinking or eating. Part of your house training is letting them know the area where they can relieve themselves. Remember to be patient with your puppy. The training might be messy in the first few months, as it is only after their sixth month when they develop full bladder control.
Provide them with the right veterinary care.
Veterinary care should not be administered only when the pet is sick. In its early weeks of existence, the puppy should receive proper vaccines and deworm. Provide them vitamins, occasional treatments, and grooming needs. Never hesitate to bring your pet to the vet if it is injured or not to feel well. Also, consider sterilizing or spaying your dogs to avoid pet overpopulation.
Your pet is a blessing and a source of happiness. Give back to them what they have freely bestowed on you. Feel them well and let them stay hydrated all the time. Also, make sure to keep your house safe for dogs by removing all debris and sharp objects harmful to your pets when swallowed.