The yellowing leaves start falling and the air feels more chilly. It could only mean one thing: fall has arrived. Fall is America's favorite season, with 29 percent saying they prefer it to spring and even summer, and it's easy to see why. The weather is cool and calm, it's apple-picking season, and there's football on television.
Fall also means family Halloween activities. There's always something to do for the entire family, such as apple picking, pumpkin carving, and county fairs. But before you order a pumpkin spice latte, it's important to take a few safety precautions to keep you and your family safe. Fall can be fun, but it's not without its share of dangers. Here are a few tips that will help you safely enjoy the crisp weather and the bounty it brings.
1. Watch out for floods
Fall brings its share of heavy rains and thunderstorms, especially during September and October months. Since hurricane season doesn't officially end until early November, you need to be on the lookout for inclement weather that would make an already bad situation worse.
For instance, heavy rains mean that floodwaters aren't far behind. If you come across a flooded road or rising water levels as you are driving or walking, leave the area immediately. Fast-moving waters are extremely dangerous and you will need to find an alternative route. Even if the water looks still and peaceful, there could be dangerous currents underneath that make escape impossible.
2. Be careful around leaves
The yellowing leaves can look pretty, but they can be dangerous to motorists. For instance, wet leaves can reduce traction on roadways and make driving more hazardous. If the temperatures start to drop and ice begins to form on the roads, it could lead to conditions similar to driving on black ice.
The leaves can also be potholes and road markings such as yellow lines. Make it a point to slow down when driving on a leaf-covered road or highway. And do not tailgate. Leave plenty of room between you and the car ahead of you in case they need to break immediately.
Make sure to remove leaves from your windshield before driving to keep your view clear. If you notice signs of dried leaves under the hood, pop it open and remove all leaves before going anywhere. Drive leaves can block ventilation holes and cause overheating.
3. Drive slowly
Fall means shorter days and longer nights, and visibility when driving can become a serious challenge. People often ride bicycles or jog or walk along the side of the road, and they can be easy to miss. And since the kids are back to school, expect more kids in their bicycles. You can expect fog in the morning and a rain shower in the afternoon.
Make sure to slow down when driving, especially in densely populated areas. Reduce your speed on sharp corners and narrow roads since visibility can be a challenge. Check for traffic signs such as school-zone speed limits and animal crossings. Wildlife such as deer is more active during fall.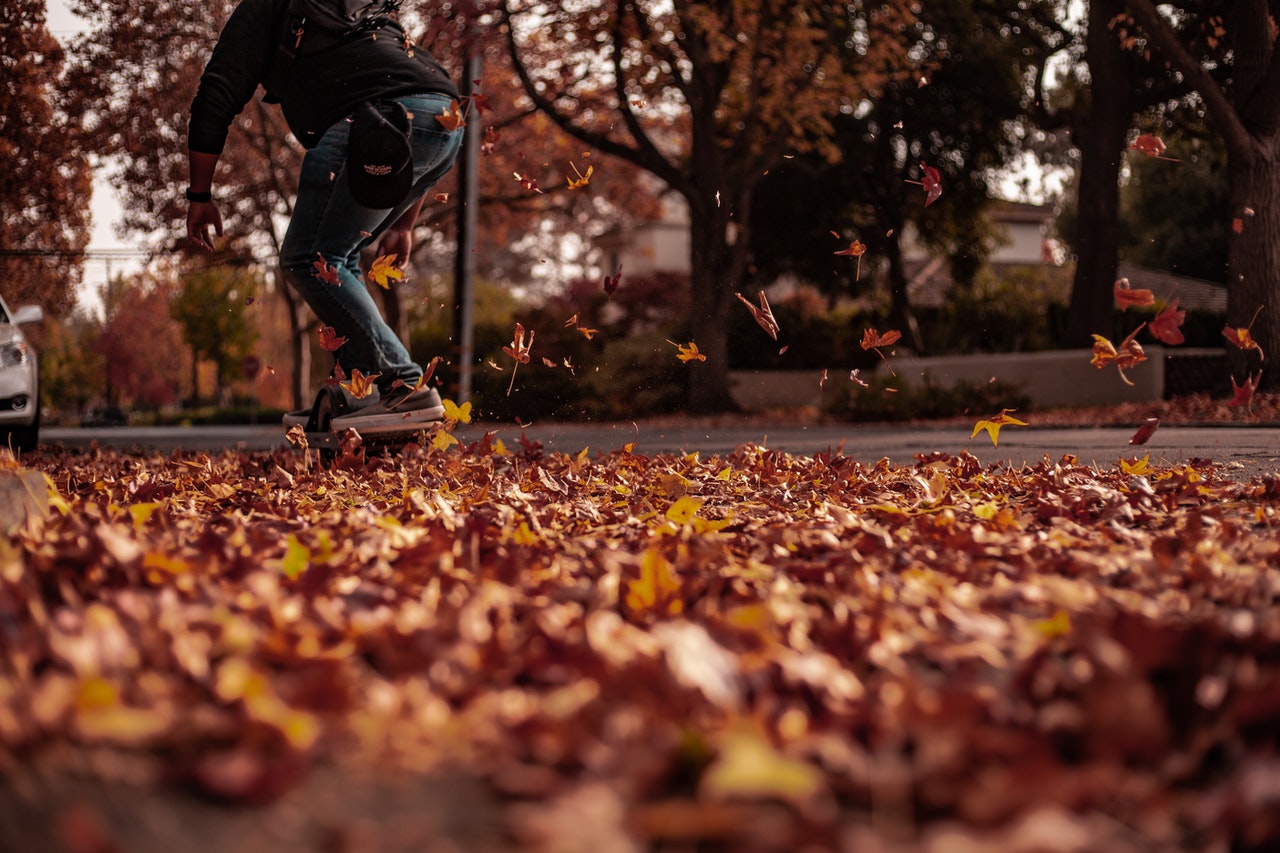 4. Accompany your kids while trick-or-treating
Your kids might beg you to let them trick-or-treat with their friends, but you shouldn't allow them to go out without adult supervision. Make sure to accompany your kids while they're out on Halloween. If you can't be around to supervise, make sure that another parent can look after them.
There are more pedestrians on the leadup to Halloween, and kids aren't exactly known for following rules. Stick to residential areas and avoid roadways with heavy traffic. It's best to stick to an established route near your home and do not venture into unfamiliar territory.
5. Don't burn leaves
Your backyard is probably full of dried leaves, and if you don't act fast, you're going to be overwhelmed with piles and piles of them. But don't burn leaves to dispose of them. Not only is it dangerous, but it's also possibly illegal. Burning releases smoke and chemicals into the air, which could affect people with allergies and respiratory issues.
A final word
Fall is a wonderful season, but you shouldn't let your guard done. These five tips will help ensure a safer and more productive time for you and your family. And finally, don't forget to get a flu shot. Fall is also flu season, and you don't want to be caught off-guard by an avoidable disease.